The Mauer Gallery is a young art gallery located in Alt-Treptow Berlin. Build over the Berlin wall in the 90's, the Artists-Run gallery aims to show work of unseen young artists or by international artists whose work has been rarely or never been exhibited in Berlin. The space welcomes urban art, limited run artist series and special projects.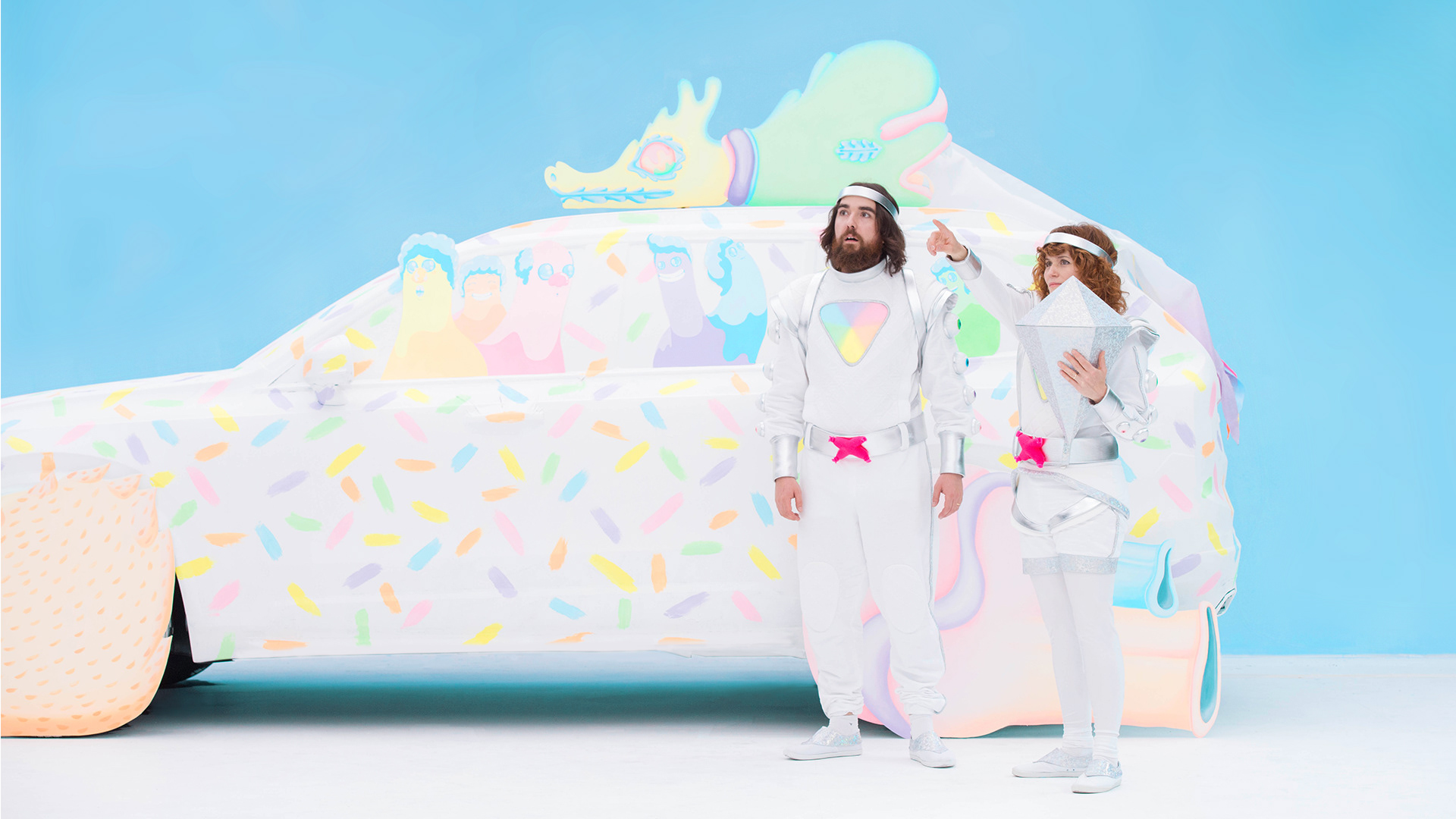 Ben&Julia is the French / Swiss duo of Berlin-based artists Benoit Créac'h and Julia Gaudard.

They made a name for themselves designing and directing surreal music videos and commercials. They are also renowned artists who exhibit in museums and galleries internationally. Their art stands somewhere between fine art and advertising.
 Julia Gaudard was born in 1976 in Lausanne, Switzerland. She graduated from the Ecole d'arts Appliqué of Vevey and moved to London to study at Central Saint Martin where she obtained a Bachelor in Graphic Design. After graduating from college in 2002, Julia worked for MTV as associate producer. There, she had the opportunity to design logos and idents and contributed to multiple programs before joining Ben in Paris in 2006.
Benoit Créac'h was born in 1981 in Béziers, France. When he turned 18, Ben moved to Paris to study Cinema at Marcel Carné CCLF and Isart Digital where he obtained 2 Bachelors in Editing and 3D Animation Film. In 2004, Ben worked motion designer and director in a video Game agency. There, he had the opportunity to direct his first TVC and online campaigns and started creating custom clothing.
When Julia arrived in Paris, The pair began to work together and create surreal model sets, puppets, paintings and illustrations. By 2008 they directed and designed their first music video 1973 for Tahiti Boy and that defined their mixed media approach. They started to focus on mixing techniques & dimensions, in advertisements, videos and exhibitions.
 In 2009, B&J moved to Berlin in order to pursue and develop their careers as artists.
They had the opportunity to paint live in the fully packed Elisabeth church, during the Illustrative Festival, also at Blue Balls at the KKL Luzern where they curated the street artists selection for Swatch / MTV playgrounds, and later at Scope Art-Basel painting with Tika.
In 2011, during Pictoplasma Berlin and to celebrate their first solo show at the Stink Gallery in Mitte, they created "Kaluk" the white dog, a multimedia exhibition featuring oversized dogs sculptures, projections and audio guide with original soundtrack by ben's cousin and close collaborator, Pierre Créac'h.
The project will be unfolded in different lives and presented at the Gaîté Lyrique Museum Paris, Pictoplasma Berlin and Art Museum of Monterrey, Mexico.
Most recently Ben & Julia have created artworks and clothing for well-known companies such as Maison Saucisse, Nike, Diesel, Swatch, MTV, Volvo, Orange.
 They also have been highly praised for their work on acrylic paintings, collages, large sculptures and performances. One of the most popular Ben&Julia live performance happened in Zürich main station during the Volvo Art Session, where they performed for 8 hours in costumes, performing, painting and building the sets of the three acts.
In 2018, Nike commissioned the duo to design two animations for the release of the Vapormax, the films were projected on Centre Pompidou on March 25th in Paris.
In 2019, they are opening the Mauer Gallery an independent urban art gallery in Alt Treptow and the release of the first 2 episodes of their most anticipated project: Tino Pizza, the infamous poop artist and crap music inventor.
 Ben&Julia museum exhibitions include Centre George Pompidou, la Gaîté Lyrique, Helsinki Design Museum &  Contemporary Art Museum of Monterrey.
 Other international venues include Kultur- und Kongresszentrum Luzern, Hotel Raphaël, St. Elisabeth-Kirche and Torontoland.
Their work has been seen in Paris, London, Berlin, New York, Toronto, Mexico and Helsinki.